Sedge mat Hoai Chau Bac
Mô tả bài đăng trên blog.
Visit the sedge mat Hoai Chau Bac village 2000 years old in Binh Dinh
Binh Dinh is not only known as the " land of martial arts and literature " but also the " capital" of many famous traditional craft villages such as Cu Lam bau da wine , Truong Cuu rice paper, Phu Gia coical hat,...and specially, with more than two hundred years old, the sedge craft village in Hoai Chau Bac reputed all regions. Do you know! let's firgure out together!!

Hoai Chau Bac is a commune that belongs to Hoai Nhon district , in Binh Dinh province.

Sedge mat usually has two types: smooth mats & flower mats, with many different sizes like thicknesses-thin

Smooth mat is woven from white sedge, simple, natural but equally polite. Therefore, people often use white mat in every worship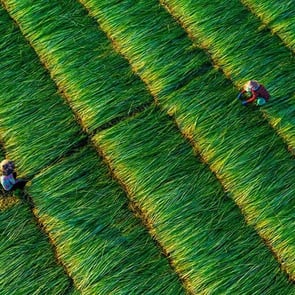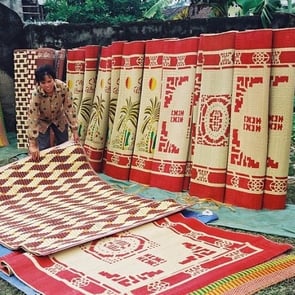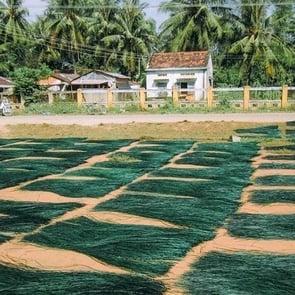 Weaving flower mat is much more elabrate, people take the food coloring to cook and dip the sedge fibers in, dry them and then weave them into flower mats

The mat with the word: " longevity", " double happiness" or " Happy ever after ", four corners of the mats have decortions that symbolizes abundance, blessing, happiness so it is very popular during Tet holiday, weddings,...

Indeed , to make the edge mats , people have to undergo a lot of " rain, sun, wind & dew" from harvesting sedge in the field , to drying the sedge libers then " changing ", " dressing up" for them, with the dyeing stage, then drying it again...At that time, the workers will bring back them to weave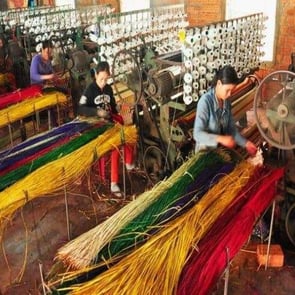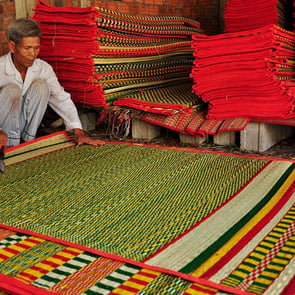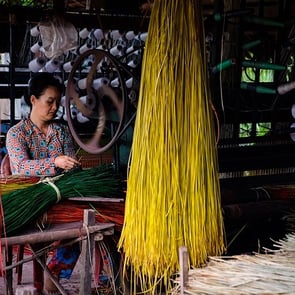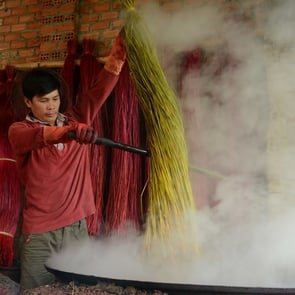 -> Sedge mat of Hoai Chau Bac commune gradually asserts its position in the domestic market as well as export markets such as Eastern Europe , Southeast Asia . If you have the oppportunity to visit Binh Dinh, visiting the " Sedge mat" craft village in Hoai Chau Bac is also a unforgettable experience for your trip!!